A complete and balanced food for PUPPIES. Cold pressed & nutritious - this recipe has been scientifically crafted with your pup in mind.
Regular price
Sale price
£12.50 GBP
Unit price
per
Sale
Sold out
Try before you buy with a Sample Box!
Share
Description

We are so excited about this recipe, because it's one of the very first UK-made, Puppy-specific, Cold Pressed foods to be made (try saying that with a mouth full of food!).  
As with our Adult recipes, our Puppy food is grain-free.  However, we use mixed-animal-proteins, in order to cater for the special nutritional needs of growing puppies.  We also have very carefully tailored levels of omegas, proteins, vitamins and minerals, with a special focus on absorbable Calcium. 
Finally, we've included our joint aid premix, to give even more attention to those growing bones.
All this is to ensure that our Puppy food has the optimum nutrients for healthy growth and bone formation.
Info
How to get the most out of your premium cold pressed puppy food:
Switching from another brand or food type? Don't rush. Tummies, especially little ones, need a little time to get used to all the natural and yummy ingredients.
Don't worry if your pup seems hungrier between means for at the start. It's because our food won't expand in their tummies, which is a good thing. It'll settle as they adjust to their healthy, new diet.
Feed your way – dry or moist. Our dogs love a little warm water stirred in! 
Are you raw feeding or thinking of trying it? Cold pressed food is totally compatible with raw.
Got a good pup? Well of course you do!!  Why not weigh out some powder from the bottom of the bag and make a lovely gravy with a little warm water – such a treat. 
Store in a cool dry place. And ensure fresh, clean drinking water is available at all times. 
Nutritional Info
Composition
Fish Ingredients 24% (Dried Ground Sea Fish 18%, Salmon Protein Peptides 3%, Fish oil 3%), Chicken Ingredients 21% (Dried Ground Chicken 15%, Chicken Fat 6%), Sweet Potato 17%, Tapioca, Yellow Pea Meal, Beet Pulp Fibre, Pea Fibre, Seaweed, Glucosamine (400 mg/kg), Chondroitin (300 mg/kg),  Amino Acids (DL Methionine), Carnitine, Yeasts and parts thereof (including Mannan-oligosaccharides; Prebiotic MOS) , Yucca Shidigera, Chicory Root Extract (as a source of Prebiotic Fructo-oligosaccharides and Inulin), Rosemary Extract,  Natural Antioxidants (mix of Vitamin E and Rosemary Extracts)
Analytical constituents
Crude protein 29%, Crude fat 14%,
Crude fibre 3%, Moisture 8%,
Calcium 1.2%, Phosphorus 1%,
Raw ash 7%
Minerals
monocalcium phosphate 1.6 g/kg
calcium iodate anhydrous (1.5 mg/kg)
sodium selenite (0.1 mg/kg)
iron (II) sulphate monohydrate (80 mg/kg)
copper (II) sulphate pentahydrate (8 mg/kg)
zinc sulphate monohydrate (100 mg/kg)
manganous sulphate monohydrate (10 mg/kg)
vitamins
vitamin A - retinyl acetate (15000 IU/kg), 
vitamin D3-cholecalciferol (700 IU/kg), 
vitamin E-alpha tocopherol acetate (130 mg/kg), 
vitamin B1 (10 mg/kg), 
thiamine (9.17 mg/kg), 
riboflavin (10 mg/kg), 
vitamin B6 (5 mg/kg), 
vitamin B12 (0.04 mg/kg), 
niacin (25 mg/kg), 
calcium pantothenate (20 mg/kg), 
folic acid (1mg/kg), 
biotin (0.15 mg/kg), 
vitamin C (30 mg/kg), 
choline chloride (330 mg/kg)
Feeding Guide
*Please note that amount shown is intended as a guide
per day rather than per meal.
View full details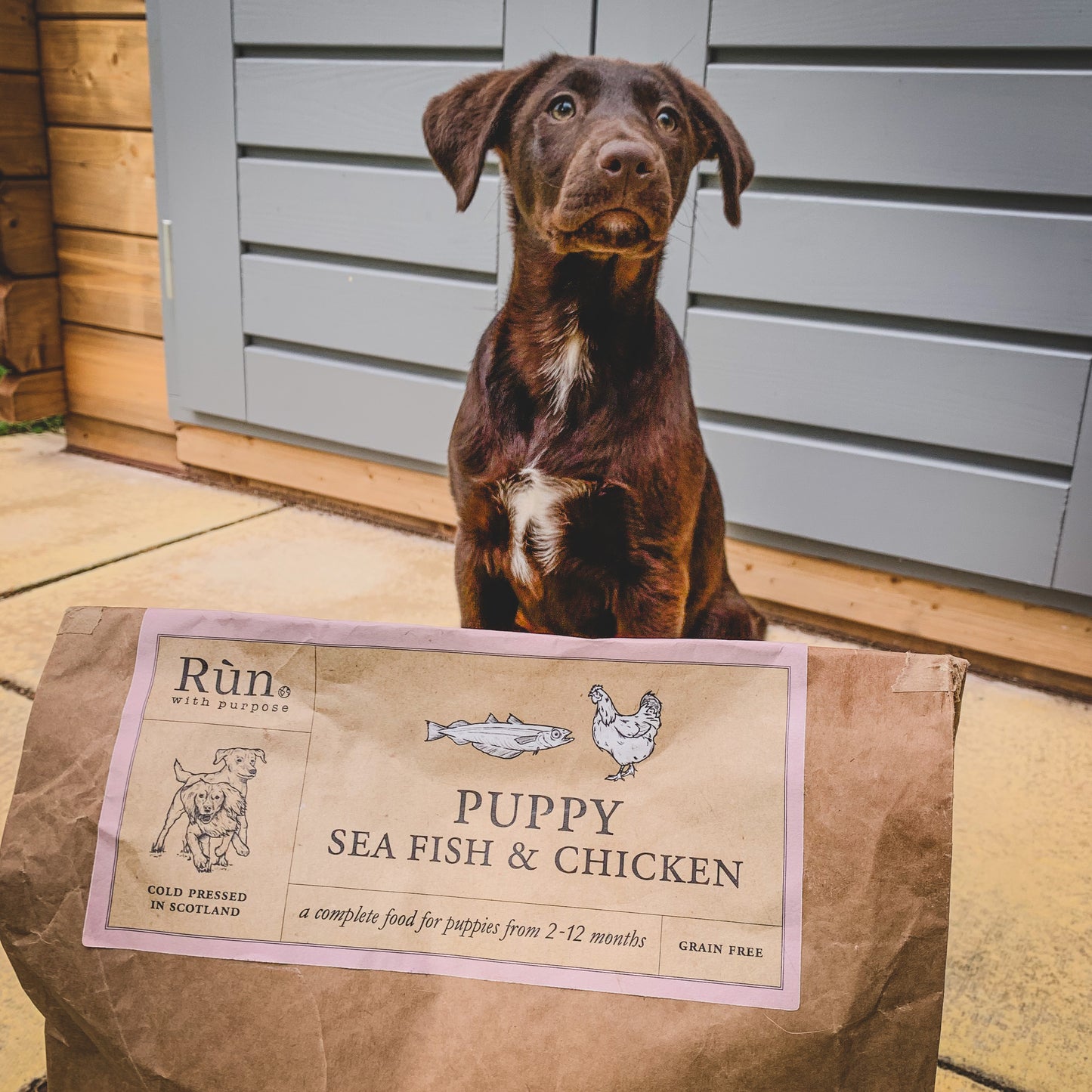 Puppy love
Product is great the pup loves it. Older dogs are now on it to. Quick and reliable delivery. Great start for any pup 😁
We are very happy with the puppy version of Rùn! We look forward to trying the other products too
Puppy love
My puppy loves the food, first time put in her dish she loved it
Revolutionary
My puppy was not bothered about foot at all until we started using Rùn. We would frequently have food left in her bowl and ended up throwing lots away (even if we'd used toppers/wet mixed in).
Now that she's on rùn she wolfs her food down, let's me know when it's supper time and thinks it's the best high value training treat.
Not only can we see how much she enjoys it but we can see just by looking at her shape and coat condition how good it is for her!
Delivery has always been quick and efficient and customer service is second to none!
Thank you team rùn - you've really have been revolutionary!
Ralph🐾💙
Great service and quick delivery.Ralph has a sensitive and seems to be getting on well on this