A complete and balanced food for ADULT dogs. Cold pressed & nutritious - this recipe has been scientifically crafted with your dog in mind.
Regular price
Sale price
£12.50 GBP
Unit price
per
Sale
Sold out
Try before you buy with a Sample Box!
Share
 Description
Rùn's super delicious Adult Mixed Sea Fish recipe.  This recipe took a whole extra year of tweaking, before we finally felt that it was ready to release.  Why?  Because it had to be perfect.
This recipe is also grain-free and uses single-source-animal-protein, for extra easy digestion.  We don't use any hidden oils/fats, so you won't find any Chicken-oil hiding in this Fish recipe.
Just like our Chicken & Sweet Potato recipe, each ingredient has been specifically chosen to create a perfectly balanced nutritious meal.  Great care has gone into choosing the exact amount of animal and plant proteins, including our very careful inclusion of Salmon Protein Peptides (an extra concentrated form of protein, that is super gentle for fuzzy tummies to digest).
Info
How to get the most out of your premium cold pressed dog food:
Switching from another brand or food type? Don't rush. Tummies need a little time to get used to all the natural and yummy ingredients.
Don't worry if your dog seems hungrier between means for at the start. It's because our food won't expand in their tummies, which is a good thing. It'll settle as they adjust to their healthy, new diet.
Feed your way – dry or moist. Our dogs love a little warm water stirred in! 
Are you raw feeding or thinking of trying it? Cold pressed food is totally compatible with raw.
Got a good dog? Well of course you do!!  Why not weigh out some powder from the bottom of the bag and make a lovely gravy with a little warm water – such a treat. 
Store in a cool dry place. And ensure fresh, clean drinking water is available at all times. 
Nutritional Info
Composition
Fish Ingredients 30% (Dried Ground Sea Fish 25%, Salmon Protein Peptides 3%, Fish Oil 2%), Pea Starch Flour 20%,  Sweet Potato, Yellow Pea, Tapioca, Sunflower Oil, Beet Pulp, Pea Fiber, Seaweed,  Glucosamine (400 mg/kg), Chondroitin (300 mg/kg),  Amino Acids (DL Methionine), Carnitine, Yeasts and parts thereof (including Mannan-oligosaccharides; Prebiotic MOS) , Yucca Shidigera, Chicory Root Extract (as a source of Prebiotic Fructo-oligosaccharides and Inulin), Rosemary Extract,  Natural Antioxidants (mix of Vitamin E and Rosemary Extracts)
Analytical constituents
Crude protein 28%, Crude fat 12%,
Crude fibre 3.5%, Moisture 8%,
Calcium 1.4%, Phosphorus 1.2%,
Raw ash 8%
Minerals
monocalcium phosphate (10g/kg)
calcium iodate anhydrous (1.5 mg/kg)
iron (II) sulphate monohydrate (80 mg/kg)
copper (II) sulphate pentahydrate (8 mg/kg)
zinc sulphate monohydrate (60 mg/kg)
manganous sulphate monohydrate (10 mg/kg)
vitamins
vitamin A - retinyl acetate (15000 IU/kg), 
vitamin D3-cholecalciferol (700 IU/kg), 
vitamin E-alpha tocopherol acetate (130 mg/kg), 
vitamin B1 (10 mg/kg), 
thiamine (9.17) 
riboflavin (10 mg/kg), 
vitamin B6 (5 mg/kg), 
vitamin B12 (0.04 mg/kg), 
niacin (25 mg/kg), 
calcium pantothenate (20 mg/kg), 
folic acid (1mg/kg), 
biotin (0.15 mg/kg), 
vitamin C (30 mg/kg), 
choline chloride (1500 mg/kg)
Feeding Guide
*Please note that amount shown is intended as a guide
per day rather than per meal.
View full details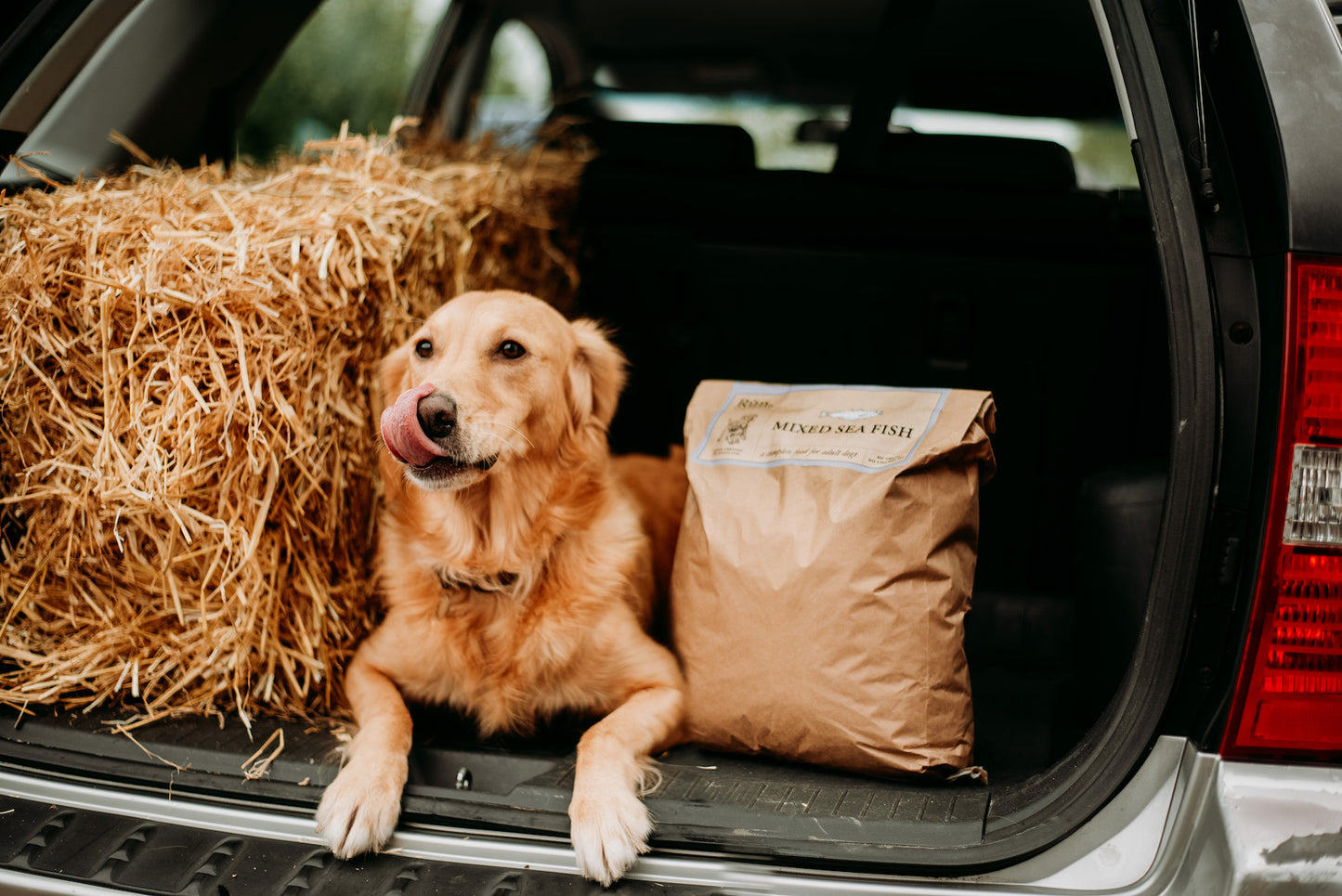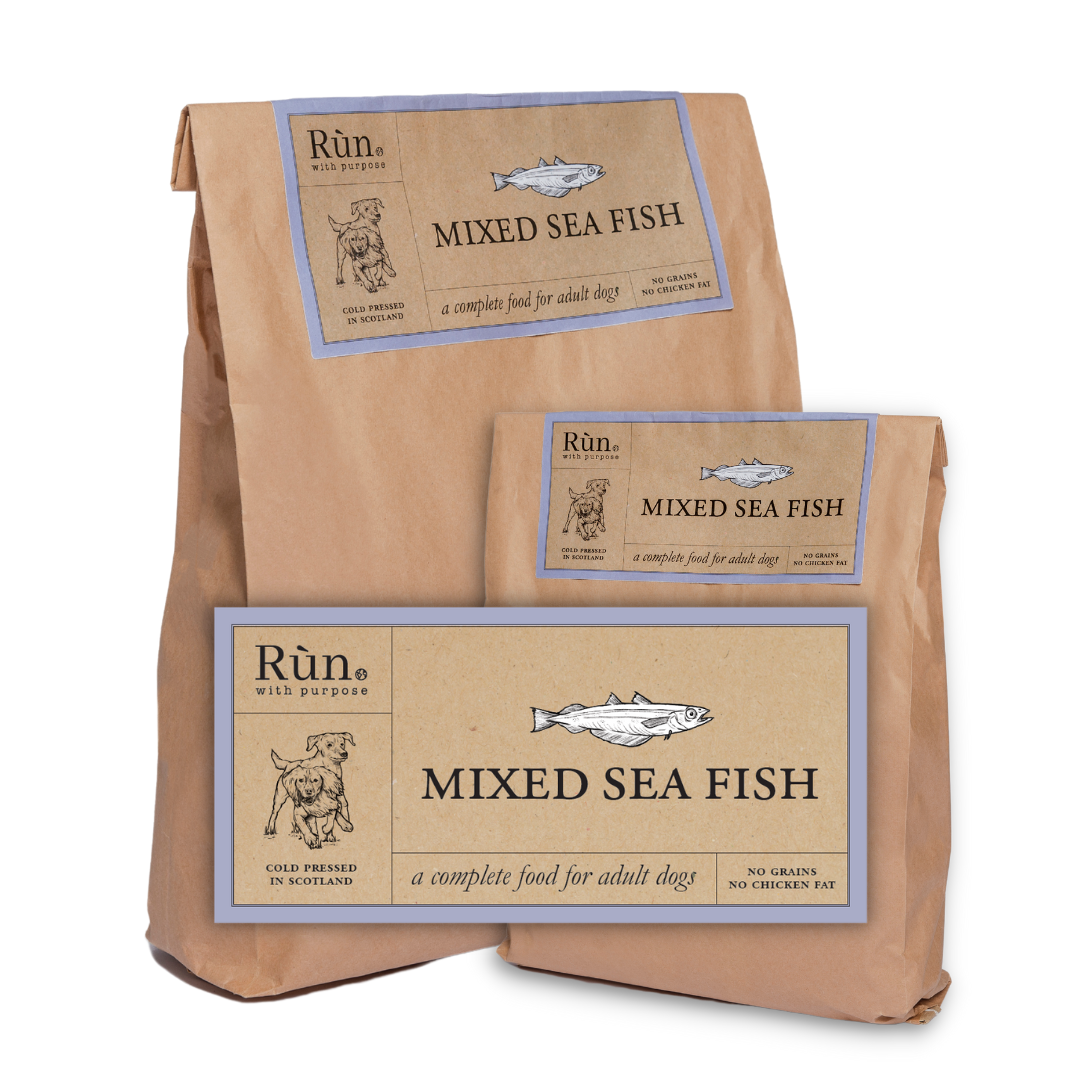 Absolutely amazing food! Especially for active and sensitive dogs, my youngest thrives on the mixed sea fish and not only that, there is never a scrap left in his bowl 😊
Revolutionary
Ada loves it and looks fab, I no need 5 poo bags whenever we leave the house and don't dread picking up after her any more! Thank you Rùn
High Quality
Great for my sensitive stomached dog with Colitis
Great food or use as treats
My 2 young dogs love this food. Lewis at Brodie K9 training introduced us to it as he uses them as treats at his training classes. We now use them as treats too and Bernie and Lacey love them.
Mixed sea fish fantastic
Elvis loves her mixed sea fish - we use it for meals and for treats and she's always super excited to get it so it must be good!